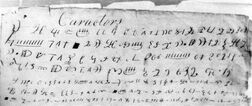 The
Book of Mormon was
originally written in
reformed Egyptian
characters
[1]
on plates of "ore"
[2]
by prophets living in the Western Hemisphere between 600 BC and AD 421.
Joseph Smith, Jr.
, the founder of the
LDS Church
, published the Book of Mormon in 1830 as a translation of these
golden plates
.
Reformed Egyptian and the Book of Mormon
Edit
The Book of Mormon uses the term "reformed Egyptian" in only one verse, Mormon 9:32, which says that "the characters which are called among us the reformed Egyptian, [were] handed down and altered by us, according to our manner of speech" and that "none other people knoweth our language."[3] The Book of Mormon also implies that its record is written in "reformed Egyptian" both because it took less space on the golden plates than Hebrew and because of the evolution of the language since the people left Jerusalem.[4]
Although accounts of the process differ, Smith is said to have translated the reformed Egyptian characters engraved on golden plates into English through various means including the use of a seer stone or the Urim and Thummim, or both.[5] When Smith finished the translation, he returned the plates to the angel Moroni, and therefore they are unavailable for study.[6]
External Links
Edit
Footnotes
Edit